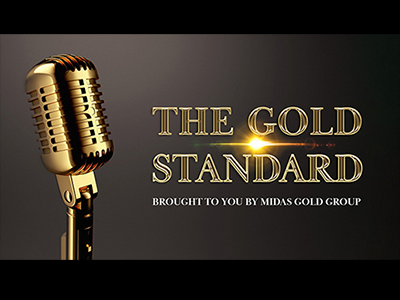 The Gold Standard presented by The Midas Gold Group is a weekly discussion of current news and historical events that will affect the future of money and wealth. The Executive Order 6102 by President Roosevelt, the Federal Reserve Bank, the historical event in 1971 by Richard Nixon, and the insatiable desire for credit on all levels have caused the biggest debt bubble in history. The major central banks of the world now control the financial markets through unlimited debt, interest-free money, and stimulus. There are many fancy names out there that mean money out of thin air. Someday this debt will matter, and it will be financially catastrophic to those who do not prepare right now.
This weekly show discusses why the US dollar has lost 97% of its purchasing power against gold since the early 1970s, and 80% of its value against gold since 2000. US debt levels of over $28 trillion and global debt of over $280 trillion and growing will eventually implode the debt, real estate, and equities markets. The Gold Standard presented by The Midas Gold Group does not give financial planning advice, but simply discusses the reasons every investor should consider controlling a position of their portfolio outside the financial system through private ownership of physical gold. The Gold Standard discusses recent exponential debt and money printing and why this means exponential risk to traditional paper assets, cash, and even equities held through third-party brokerage firms.
---
Kenneth Russo, Jr. – Executive Vice President at Midas Gold Group
Kenneth Russo Jr. started and trained in the retail equity markets on Wall Street in 1994 after completing his MA in Corporate Economics from Trinity College in Hartford, CT. After recognizing a massive internet bubble in 1999, Mr. Russo decided to explore, research, and trade the futures markets and focused primarily on currencies, grains, softs, energies, and precious metals. In 2003, Mr. Russo also decided to focus on the William O'Neil Canslim approach to leading stocks. This discipline produced an in-depth study of forty-four leading stocks that focused on the simplification of the stock selection process. Preparation, interpretation, and execution continue to support his thesis that "What has worked before, will most likely work again." Mr. Russo is a strong advocate of fundamental and technical analysis with which to identify the best possible trading scenarios poised to offer the optimum risk to reward opportunities. One of his favorite sayings is, "It's not a question of how many times we can make profitable trades, it's how much we can make when we are absolutely correct!" Mr. Russo is a firm believer that sometimes the best trade is "to do nothing", and most importantly, the power of the market needs to be respected at all times. Mr. Russo has been a registered representative of the NASD, FINRA, NFA, and a Registered Financial Consultant.
Since 2006, Mr. Russo has focused his energy on wealth preservation and financial independence through ownership of precious metals. Mr. Russo has actively bought and sold billions of dollars in gold bullion and coins. He is also an expert on owning precious metals within IRAs and tax-deferred accounts. Mr. Russo is actively involved in the day-to-day operations of Midas Gold Group, the nation's #1 veteran-owned precious metals dealer in the country. Mr. Russo also speaks with and meets with his clients daily.